The machine manufacturer WEINMANN has been setting trends in timber construction production since 1985. To date, the Swabian company located in St. Johann, Germany, has become the world market leader for timber construction systems – both for carpentry plants, module manufacturers and the prefabricated house industry. The connecting element has always been software from granIT.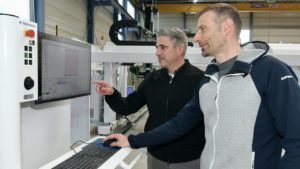 An interview with WEINMANN Sales and Marketing Manager Michael Marschall and Project Engineer Ingo Krieg about the importance of Manufacturing Execution Systems (MES) in the automated production of prefabricated timber houses. And why hardly anything works in the timber construction industry without MES.
granIT: Right away: How long has MES actually played a role at WEINMANN?
Ingo Krieg: In principle, since WEINMANN has been building machines for prefabricated house production. Of course, the software was still in its infancy at the beginning. But it can really be said: MES – and especially those from granIT – have accompanied WEINMANN machines, no matter whether in larger industrial plants or in plants for smaller, more medium-sized companies, since the beginning of our machine production.
granIT: And what role does MES play in WEINMANN plants or in the subsequent application of WEINMANN machines? Would an efficient production process on your machines even be possible today without MES?
Michael Marschall: Let's put it this way: If the customer orders a small system, for example a mutlifunction bridge with a table, then in principle he doesn't need a MES. Everything is straightforward: The order is entered into the system, production takes place, or the job is done by the two machines. And that's it.
However, as soon as several machines are interlinked, the complexity of the overall system logically becomes more extensive – and thus less manageable. Nevertheless, efficiency, throughput times and thus optimal production planning must be adjusted and improved accordingly. The individual elements distributed on the plant should therefore ideally be placed and controlled in such a way that the highest possible output and capacity are achieved. All' this is then controlled by a higher-level MES.
In addition, MES is indispensable today because it creates production transparency. With MES, it becomes possible to identify weak points in the system and to better utilize inefficient areas with detailed production planning.
And even after production, the Manufacturing Execution System plays an elementary role, because it makes consistent evaluation possible in the first place. What went well? Where did I achieve good and where poor capacity utilization? Where were there areas of error, where can I optimize?
Ingo Krieg: MES is a must for plants that are to produce more than 300 houses per year, for example. Even in production lines with isolated solutions, it still makes sense to bring structure and transparency into the process with MES.
granIT: That all sounds very complex and multidimensional. How do your customers react when they order larger plant systems? Do they order the appropriate MES system at the same time?
Ingo Krieg: In the past, manual production often said: "We already know what we have to do! If these companies now want to work automatically and buy one or the other WEINMANN system, then it is important to create an understanding of how important a structured production process is. In the meantime, however, it is actually the case that many customers have at least a basic knowledge of MES. They know that with the Manufacturing Execution System they can achieve higher output and better utilization of the machines. That is convincing!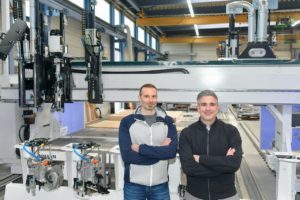 It is now much easier for us to communicate the need for an MES to customers. As an example that always works, granIT software is then naturally a good tool to demand coordinated work as the rule.
Michael Marschall: From a certain plant size, we talk directly with the customers about an MES system in the project planning phase. Most customers are now aware of this from the outset – unless they are absolute newcomers. So it is well known that for a large production plant an MES as an "organizing control station" is absolutely necessary.
It becomes more interesting with medium-sized plants, for example in timber construction companies with about 100-200 employees. They usually already work with basic systems on their plants, buy one or the other machine and then ask as their first question: Can we link this with our existing system? There can only be one answer to this question: Only if an MES is used, the machines or systems can be coupled with each other.
granIT: Are there any examples in WEINMANN's production history where MES has played one of these elementary roles? A bit like "nothing happens without MES"?
Michael Marschall: Of course. One plant whose complex functionality has really impressed me personally is the production facilities of Lindbäcks Bygg in Sweden. For WEINMANN, it is one of the most highly automated plants currently in operation. And it's a good match now: It is also the plant with the highest capacity utilization and fastest cycle time.
Part of the plant is completely automated, the wall elements are produced fully automatically at a speed of up to eight minutes per wall element. All production data is fed in here via MES, pre-sorted and then transferred to the plant. Another decisive factor of the MES applied in Sweden: It is predetermined and controlled via the customer's plant planning software by MES when which raw material has to be on site at which location in the plant. Accordingly, our customer's logistics knows when which timber, which materials should be brought into the system. You have to imagine that: A 10-meter wall, every eight minutes – that's world class. And it only works to this perfect extent with MES – which, by the way, comes from granIT!
granIT: What was it like for you in this field, Mr. Marschall? Was there ever a sudden insight when you were confronted with an MES?
Michael Marschall: Basically, I am also familiar with MES systems due to my previous professional experience, but they were quite different. However, I was very surprised what Manufacturing Execution Systems can do in the automated production of prefabricated wooden houses.
granIT: How important is MES in connection with the widely discussed transformation, which is already playing a role at WEINMANN?
Michael Marschall: In addition to optimal production technology, we are constantly expanding our portfolio of services and also scrutinizing related processes such as the correct qualification of employees or, for example, strategic topics such as how our customer can successfully develop its business model.
And to stay with the MES, we have to be more responsive to the fact that smaller and medium-sized customers also want and need an MES. An example: a customer who now has five ERP systems running due to new purchases. Here it makes sense to bring everything from MES bundled and coordinated on one screen. Our own training department offers such training. And we call in experts, such as Wolfgang Bock from granIT.
granIT: Does MES actually influence the development of your machines?
Michael Marschall: No, you can't say that. The machines are always built according to the requirements of the individual markets or customers. In house building alone, each company has different requirements in each country. The MES must rather be able to coordinate the interaction of the individual machines in the process and production flow and to divide up the units to be produced as efficiently as possible. Of course, the data interface changes in line with technological developments.
Ingo Krieg: But MES has a beneficial effect on the handling of WEINMANN machines. With MES, the configuration, i. e. what the machine is to do on the workpiece, is made available automatically. The file is already loaded, the system configured accordingly. Without MES, you would have to enter into the machine "Rear wall XY, clamped, not screwed." Today, this is all already prepared in the MES. I no longer have to search for files, you are less prone to errors. If a wall number has ten digits, you quickly open the wrong file "manually" – this will not happen to an MES.
granIT: Speaking of mistakes. What mistakes do your customers make in connection with MES?
Ingo Krieg: Sometimes the expectations are extremely high: 1. the customers want a higher output with MES, without major additional effort. 2. there is always the hope that, as in manual times, you can simply change something in the production process in between, and the system will recognize this automatically.
In practice, however, things look somewhat different. You have to maintain a certain discipline in the production process and be prepared to adhere to the MES control system. In short: customers lose a little flexibility, but gain enormously in effectiveness with MES.
After all, MES does not map the complete ERP system, but is only a part of it.
MES is responsible for production planning and execution. Customers often have problems understanding this because they want to replace one system with another. But MES is not an ERP system and can NOT handle logistics in the warehouse, purchasing, accounting, and even calculatory pricing.
However, this is the impression some customers have. MES is only responsible for the execution of production. However, in many cases it is possible to link the MES with the ERP system if the interface is defined accordingly. granIT then does this together with the customer.
granIT: Finally, what are the advantages of the WEINMANN/granIT collaboration from your perspective?
Ingo Krieg: The specialist know-how in connection with the effectiveness of the production process. If, for example, a customer has a beam or element two meters long running alone over a new system, then 80 percent of the capacity is wasted. granIT and its MES ensure order and full efficiency here. In addition, with MES the customer becomes more "organized" and must inevitably adhere to the process sequence. Just as we or granIT planned it.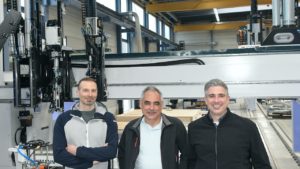 For WEINMANN, however, the cooperation with granIT is definitely also a selling point: We have a strong partner with whom everything works well. And who brings in a system that works smoothly even with machines from other houses that have been integrated into the production chain. For example, panel pre-cutting machines. That's where some other systems have a hard time.
Michael Marschall: Very important – granIT Managing Director Wolfgang Bock knows the market of the prefabricated timber house industry like no other. granIT's attitude of "there is no such thing as impossible" has already proven to be extremely motivating for us in many projects. And the ability of the granIT team to respond intensively to individual concerns and not to pull prefabricated products out of the drawer is something I personally find highly professional and customer-centric – which is exactly what we need in a future-oriented collaboration!
https://www.granit.de/wp-content/uploads/2021/03/logo_small-300x124-1.png
0
0
Bettina Hummel
https://www.granit.de/wp-content/uploads/2021/03/logo_small-300x124-1.png
Bettina Hummel
2022-06-02 14:32:37
2022-06-02 14:32:37
Trendsetting