Diversity… the continuation: the granIT team warmly welcomes Rihab Jamal-Eddine to its ranks.
The 24-year-old Moroccan from Casablanca has been working for the Reutlingen-based company as a trainee programmer since the summer of 2022 and is familiarising herself with the MES environment, which is new to her, surprisingly quickly.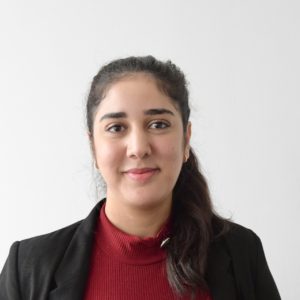 In a certain sense, Rihab is a "trainee with previous knowledge". The young Moroccan already has an extensive education and training "career" behind her in her home country: at the age of 17, she took her school-leaving exams, then attended a technical university in Casablanca with a focus on computer science and subsequently worked in the IT sector at a Moroccan bank.
So much IT and technology are by no means unusual for North African women. "It was mainly my mother, who works as a chartered accountant, who encouraged me to seek my professional fortune in computer science," Rihab recalls today. She also got a certain talent for numbers and geometry from her father, who teaches mathematics at a secondary school. And the fact that her older brother is now a doctor of chemistry probably also prompted Rihab to take a rather unconventional path in life.
From Casablanca to Reutlingen
This soon led her out of her North African homeland into the "wide world of computer science". Like many young people, she wanted to "broaden her horizons", and the Moroccan had chosen Germany as her favourite destination for the time being. Rihab began to apply to interesting German IT companies on her own initiative, as word has spread in many countries that there is a desperate need for well-trained IT specialists or talented people willing to learn.
Their application initiative was correspondingly well received. Rihab: "Almost all the companies I wrote to replied immediately and invited me for interviews. I could have started immediately at two companies, but the third offer from granIT made the most interesting impression on me."
The young IT specialist sees her return to training and school as an opportunity for further training. "I do have a good, technical foundation, but it can become even more sustainable in terms of "programming". Besides, I only speak German at a B1 level. So there is still a lot to learn," Rihab makes clear.
There's a lot to learn – let's do it!
For now, however, the young granIT colleague is still in the acclimatisation phase. After all, the step out of a large Moroccan city into tranquil Swabia has to be digested first. Consequently, Rihab is currently living in a student flat-share in Reutlingen, where she has been very well received. The only "disadvantage": "Almost everyone there speaks French. And I really want and need to improve my German!
Of course, a woman in her mid-twenties still has dreams and visions. In any case, the budding IT expert and programmer sees herself "someday" in New York, the dream city of many young people. But there is still a lot of time before then, Rihab notes.
Multiculturalism is better!
In any case, granIT Managing Director Wolfgang Bock is very pleased with the new addition to his team. "Rihab will not only enrich our team professionally, but also socially and culturally. I am convinced that working in a diverse and international team is more productive and creative. And these are precisely the challenges we are already facing today. And which we can easily master with granIT's international team!"
Diversity at granIT – to be continued, guaranteed!
https://www.granit.de/wp-content/uploads/2021/03/logo_small-300x124-1.png
0
0
Bettina Hummel
https://www.granit.de/wp-content/uploads/2021/03/logo_small-300x124-1.png
Bettina Hummel
2022-10-17 12:47:14
2022-10-17 12:47:14
More diversity leads to higher productivity