Wolfgang Bock, CEO at granIT, talks about the creative use of MES, about clients' fear of the unknown, about real benefits and improvements in the production sequence and about the limits of MES.
Manufacturing Execution Systems, shortened MES, are currently discussed in most production sectors and the trend to use MES is increasing. 
However, this increased attention concerning the IT systems of production plants also causes a lot of respect and a certain fear of the unknown among many potential users.With what intention and what level of knowledge do interested people contact granIT?
Our existing and potential customers include large companies as well as medium-sized or smaller companies. Large companies usually have a certain "know-how": The client knows, on the whole, which advantages can be achieved by using MES. The smaller companies are, for example, small and medium-sized craft enterprises, where topics such as software are treated as per se secondary. Many of them just have heard that MES can improve the production process.
Which preconditions do such companies bring with them?
These companies usually work with CAD systems which indeed provide certain production data, but the production process finally still has to be managed partly "manually". Employees such as the shift manager decide, with information from a previously compiled folder, what, when, where and how things are produced. In such cases MES can contribute to a significant improvement: At a central point, that means with the computer, an optimal production process is assembled by appropriate software.
Not only the production management, but also the production optimization can be significantly controlled by MES. Here is an example from our client area "prefabricated house construction": When machines work one after another, thus a "chained production process" takes place, there is rarely a homogeneous work cycle.
An example, if an outer wall with 12 meters and then an inner wall with 3 meters are processed, then both walls will spend the same amount of time in the production process. It is just logically that the small wall can not pass the big one to the next production step. For the smaller inner wall the machine will thus run idle to a great extent.
Without going too deep into detail – how does granIT solve these tasks?
For such cases or similar cases we  put together a large production structure with so called multielements, this means many small components.
The aim is that at a cycle time of, for example, 20 minutes, each element that runs across the plant actually does take 20 minutes in the production process. Not 25 minutes, not 10 minutes, but exactly 20 minutes! Because if the machine only needs 10 minutes to process a part, it will run empty for the other 10 minutes.
This means that only with the homogenization of production data you can already achieve 20 to 30 percent more efficiency.
Is it true that you can intervene constructively in the production process with MES?
Yes, with MES it is also possible to integrate certain parts – that would otherwise have to be manufactured manually- into the automated machine production process.
Let's remain at the prefabricated house sector: At the photo you can see that we have modified a sloping attic wall – which normally could not be produced on an automatic line – by means of belt extension and additional stems so that it can be created by machine and within clocking.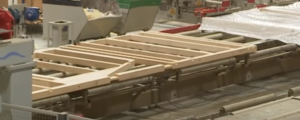 That way some of our customers have already been able to bridge or solve serious production bottlenecks and capacity problems. The use of manpower for manual production is much more extensive than if the respective part is manufactured in an already running automatic production process.
But isn't there an enormous amount of data? How can this be handled?
In order to use MES optimally, the customer or the MES user must read in the data and information into the system and process it there. A kind of control center is used where just all information is automated.
This system depicts the production lines and communicates with the machines and the manual workstations. The machines run in a real automatic mode and get their tasks by MES.
Which brings us to another important MES aspect: transparency.
Of course we do not simply discard the data and experience we have gained but collect it, evaluate it, and make it available for further production processes of the respective company. So if something goes wrong or if there are qualitative complaints about the product, it is easy to find out where there have arised problems so we can learn for further production processes or gain experiences with certain problems: where were the bottlenecks, where do I have to take countermeasures?
In addition, MES, just like granITflow, also enables a clear view and optimum transparency during the automatic production process. In principle, every piece of information about each production stage can be called up at the push of a button. Which elements will be finished when? Which parts will go into production when? Where is something being made? Is the timing correct?
As convincing as the advantages of MES may be, especially customers who have not had any experience with MES may think the new installation of the software into the production processes might be complex.
Of course you can not just download it like a self-installing app. Each production process in each company is individualized and the MES must be configured accordingly. The simplest option for all who are involved would be to install the MES during the construction of a new production facility or when new machines are integrated into an existing facility.
One can basically assume that we are done with installing and configuring the software faster than the machine builder has built the machine system. But also the use of MES in existing production lines is quite possible – we do not have to shut down the system by any means. Production losses are therefore not to be feared for the installation.
Where does MES go? Will the Manufacturing Execution System become an all-in-one solution for all automated production plants?
Certainly MES will not provide a solution for all problems, even though the current hype surrounding MES might suggest that. But MES will continue to evolve – and cover significantly more areas than today.
I don't believe that there is the one MES solution for all automatic production equipment, although this is already being claimed today by some MES developers. Quite simply because production processes will always be product-relevant and MES solutions have to be individually structured. Individuality will always be standard in the Manufacturing Execution System!