The time factor and effort involved in loading are often misjudged. All parts must be present at the right time in the right place in the right unloading sequence – often there is literally a snag "at the wrong end" and a small mistake during loading can lead to considerable problems at the destination.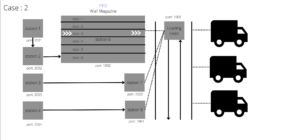 Take prefabricated house construction, for example: even in technically ultra-modern production lines, bottlenecks can occur during loading, of all things, after production has run perfectly.
Frequent reasons for this are warehouses that are not managed by MES and where booking in, booking out and time-consuming moving of wall parts are still carried out manually.
Avoid delays
Handwritten assignments that are passed on from shift to shift also lead to errors or mix-ups. Not to mention tedious searches for specific parts or elements.
The new Loading Client loading software from granIT puts an end to delays during loading .
granIT's add-on to the (already installed) Manufacturing Execution System MES is suitable for production lines with and without wall storage. Loading Client puts an end to "manual" booking and time-consuming, manual moving of walls and wall parts.
After assigning port numbers, Loading Client controls the loading of elements from specific racks into trolleys, which in turn supply various transport vehicles with different destinations or customers.
Save time and space
The warehouse or loading destination is suggested by the add-on, but can also be selected manually. If the warehouse or the truck to be loaded is already full, an error message appears.
The port number issued ensures optimisation of the production sequence.
The granIT Loading Client add-on controls the sequence of loading based on the port numbers and thus not only ensures an optimal flow in the production line, but also an efficiently used storage area where no old stock accumulates.
At the destination, too, the correct sequence of parts to be unloaded saves a lot of time and space. This is because there is no need for intermediate storage on the construction site, for example of wall parts or walls. The delivered parts can be installed directly.
The highlight: Loading Client works web-based and does not have to be installed on the computer of the production line.
The application is immediately available, quick configuration of settings with free choice of terminals is a matter of course.
The operation of granIT's Loading Client is simple and intuitive. The visualisation on the monitor is clearly arranged as usual, and the individual elements can be easily assigned.
Loading Client from granIT: A web-based add-on that puts an end to time losses and sources of error during loading.
Loading Client in use, using a high-tech prefabricated house production line as an example.
https://www.granit.de/wp-content/uploads/2021/03/logo_small-300x124-1.png
0
0
Bettina Hummel
https://www.granit.de/wp-content/uploads/2021/03/logo_small-300x124-1.png
Bettina Hummel
2023-02-21 14:28:16
2023-03-06 15:40:48
granIT loading software Loading Client: Web-based efficiency without detours.