Manufacturing execution systems (MES) must act individually, flexibly and precisely – a single comprehensive solution can no longer meet the increasing requirements of modern production plants. 
Regarding the Industrial Internet of Things (IIoT) it is becoming increasingly clear that the future can no longer belong to monolithic, closed software systems. Digitally oriented production plants and factories are rarely equipped with the same system type these days. Flexibility within the production chains is the watchword – the best possible solutions for new approaches and requirements within an existing process will make the difference today and tomorrow.
Anyone who cannot react quickly to market requirements or cannot implement innovations on the product will have a distinct disadvantage over their competitors.
Manufacturing execution systems (MES) are known to make the certain difference here. However, there are (still) certain limits to the areas of application of many MES systems that are already in use. Here, too, new technologies and possibilities have to be used to optimize quality and profit.
A standard MES that works for everything and everyone never actually existed even though it was often advertised as a comprehensive solution, and it is, for sure, needless to say that it will no longer meet today's requirements.
The focus is placed on customized solutions
As a provider of production-related software systems, the MES specialists at granIT have been developing individual yet highly flexible solutions for years.
Any producer who wants to ensure a future-oriented, automated production has to build a stable basis for the future.
The natural principle also applies here: Flexibility withstands high demands better than rigid structures.
Accordingly, manufacturing companies should use MES solutions in their automated production processes that are created by specialists exactly for the respective purpose. It is rather of secondary importance which industry you serve with specific solutions, understanding the actual manufacturing process is more important.
A growing system infrastructure should therefore integrate the best possible solutions for individual areas of application. Also – or especially – if the production chain has to remain future-oriented: the know-how of specialized partners from the MES area is absolutely essential for individual application purposes.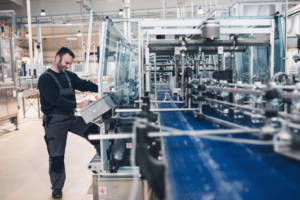 Perfect for changing market demands.
Merging industrial and digital worlds already determines automated manufacturing processes in almost all industries. Also in the future, production chains will be controlled and optimized by Manufacturing Execution Systems as part of Industry 4.0. However, the individualization and specific application of MES within a production chain with constantly changing market demands will play a central role in the future. Perhaps a distinction should then be made between MES and IMES
– Individual Manufacturing Execution Systems.
https://www.granit.de/wp-content/uploads/2020/08/MES-Bild-1.png
760
1597
Bettina Hummel
https://www.granit.de/wp-content/uploads/2021/03/logo_small-300x124-1.png
Bettina Hummel
2020-08-04 14:08:53
2020-08-04 14:09:44
Stay efficient. Stay flexible.