Extra economic efficiency for manufacturing.
Our vision is to boost efficiency in our production processes.
To achieve this aim we have developed granIT:flow. granIT:flow creates by means of automatic scheduling and path planning the basics for the compliance with the given cycle times at all stations. In addition, automatic rule-based corrections for the designed elements prevent machine downtimes. granIT:flow is thereby the interface between design and production.
The investment in optimal production processes will increase from the very outset the efficiency and will increase the cost-effectiveness of your production plant.
In order to keep this promise we have developed a strategy. It is composed of various applications which can be combined with one another. Below, we will discuss closer the two main components.
MultiElementBuilder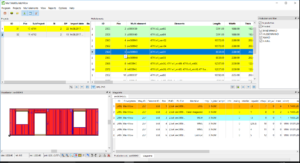 The MultiElementBuilder is used for the optimization and visualization of the incoming production data (2D/3D models). By constantly performing tests mistakes are identified effectively at an early stage.
Furthermore the MultiWallBuilder enables an easy conversion into other data formats and thus avoids possible complications that might occur. The rule-based adaptation of components and arrangements will additionally increase the efficiency of the production plant (e .g. TP/BP).
For an optimum overview and supervision production schedules and reports are generated.
Control Center
The second main component, the Control Center, comprises a visualization of the production plant and integrates automatic scheduling and path planning. The production machines are directly linked to the Control Center and so an order communication with precise time stamps is achieved.
Other features include the optional integration of manual workstations. Extensive software solutions support for instance warehouse management and order picking and go hand in hand with each other. There are different functions such as simple monitoring of the trolleys or support by means of individual bar codes on all elements.
The production plant and the current system status, as well as statistics, can be monitored at any time on the Intranet.
Sum up
granIT:flow provides by means of the different and individual applications a detailed overview of the elements to be produced and the production plant with its several stations. By means of visualization and support on the manual work stations the production planning is simplified and therefore offers optimum use of the production plant.
Immediate detection of failures avoids subsequent faults and defects and reduces thereby the costs for troubleshooting. The adaptation of the production units to the manufacturing machines ensures and optimum production time.
granIT:flow is flexibly applicable for all demands and offers optimal solutions for every size of operation.
Take with us and granIT:flow a step towards a more efficient future!
Further information:
Productflyer
Production control and optimization for the timber frame industrie
Video Tutorial