For our customer öko-domo Haus- und Bausysteme Baubetreuungs GmbH we have included new customer-specific adaptations to our CAD system.
The walls are built with ökodomo's in-house Wallfit formwork system, so no panel work is necessary. All wall contours, also complex wall contours, can be divided freely in order to provide the best possible stability of each single component. Particular upstands prevent smaller areas from breaking away when the formwork is being filled.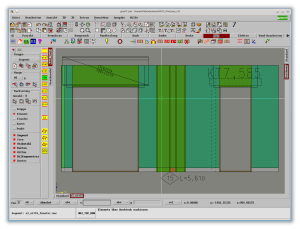 New features allow free creation of the ring reinforcement and the gable reinforcement, the position of the iron girders can be selected freely around three edges. The material can be cutted diagonally when having a jamb wall. Freely selectable recesses allow for innovative stair solutions and electrical installations.
The reinforcement cannot, as before, only be mounted within the basement module, it can now be mounted in every wall of the prefabricated house module. This allows for exact positioning of stirrup meshes, lattice girders and steel supports.
All components can be set on an individual basis. The customer-specific, clearly arranged user interface including coloured representation, highlighted nosings and protruding edges, clearly visible upstands and many additional icons allows for fast and intuitive operation. Module plans and bending lists (steel bars resp. mats) are created automatically.
New CAD solutions for öko-domo Haus- und Bausysteme Betreuungs GmbH